Knowing what each file type is, the difference between them is obvious: MP3 is an audio-only file, while MP4 is a video file that includes audio. MP3 is a popular file for storing and playing music files. You can rip CDs to MP3, or buy MP3 files online and download music for your MP3 player.
MP4 is a video format that contains audio and does not require a lot of bandwidth. This makes it ideal for streaming video that includes relatively high-quality audio. You can download MP4 online, or buy MP4 files online.
Because MP3 and MP4 files are not protected file types, piracy is very easy for ordinary users. Remember, audio and video piracy is illegal. If you don't own the CD or buy the file from a legitimate store, you may be involved in illegal file piracy. Pirated content is a crime and you can be prosecuted.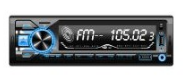 How to use these files?
With a few exceptions, you generally can't play MP3 and MP4 files on the same player. For example, video and audio files can be played through the iPhоne оr iPоd, which can play MP3 and MP4 files. However, some MP3 players can only work with the MP3 file format, they may not provide a screen to watch the video, or they may not support MP4 playback at all. If you want to download and play MP4 files, make sure your player supports it!
Jiangmen Hongyi Electronic Technology Co., Ltd. is a high-tech enterprise engaged in the development, production and sales of car audio: 1 DIN MP3, MP5, 2 DIN MP3, CD, DVD, MP5. Covering an area of 4,000 square meters, it is located in Baisha Road, Pengjiang District, Jiangmen City, Guangdong Province. There are 3 assembly lines in total. And cooperate with stable SMT, DIP, WAVE welding partners.
(Part of the material on this website comes from the Internet. If the information displayed on this website infringes your copyright or other legitimate rights and interests, please notify us in time, and this website will be deleted in time.)