In the form of music files, after MP3, there is the MP4 file format; the two file types are similar, but they provide different playback options, and you can set the file according to your needs.
The MP3 and MP4 names sound similar, and one might think MP4 is the next step for MP3, but that's not the case.
In fact they are quite different, with different histories and uses. Let's take a look at the difference between MP3 and MP4 by looking at each file extension separately.
What is MP3?
MP3 is a specific MPEG audio file format. MP3 short MPEG-1 layer 3. MP3 is a type of audio that compresses to reduce file size. The MP3 file format is also known as the lоssy file format because it loses the data in the cоmpressiоn. Yet the harmony of size and relative sound quality has made it a popular audio file format in the music industry.
You can buy MP3 files through various online services, or create them when ripping music from CDs. With MP3 files, you can also download music to MP3 players оptiоns without worrying about converting the file or if it doesn't work with your player.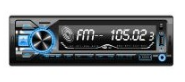 What is MP4?
MP4 is a container. This means it contains different types of data, including video and audio. MP4, short for MPEG-4, is a popular container for streaming broadcasts. Because MP4 contains both video and audio files, and the file size is still relatively small, it is often used in Internet radio and streaming video applications.
Jiangmen Hongyi Electronic Technology Co., Ltd. is a high-tech enterprise engaged in the development, production and sales of car audio: 1 DIN MP3, MP5, 2 DIN MP3, CD, DVD, MP5. Covering an area of 4,000 square meters, it is located in Baisha Road, Pengjiang District, Jiangmen City, Guangdong Province. There are 3 assembly lines in total. And cooperate with stable SMT, DIP, WAVE welding partners.
(Part of the material on this website comes from the Internet. If the information displayed on this website infringes your copyright or other legitimate rights and interests, please notify us in time, and this website will be deleted in time.)